This is your private charter, so your itinerary will be custom-made to your preferences! This Sample Itinerary Crewed Charter is for a USVI start with a BVI charter. For a BVI-only charter click here.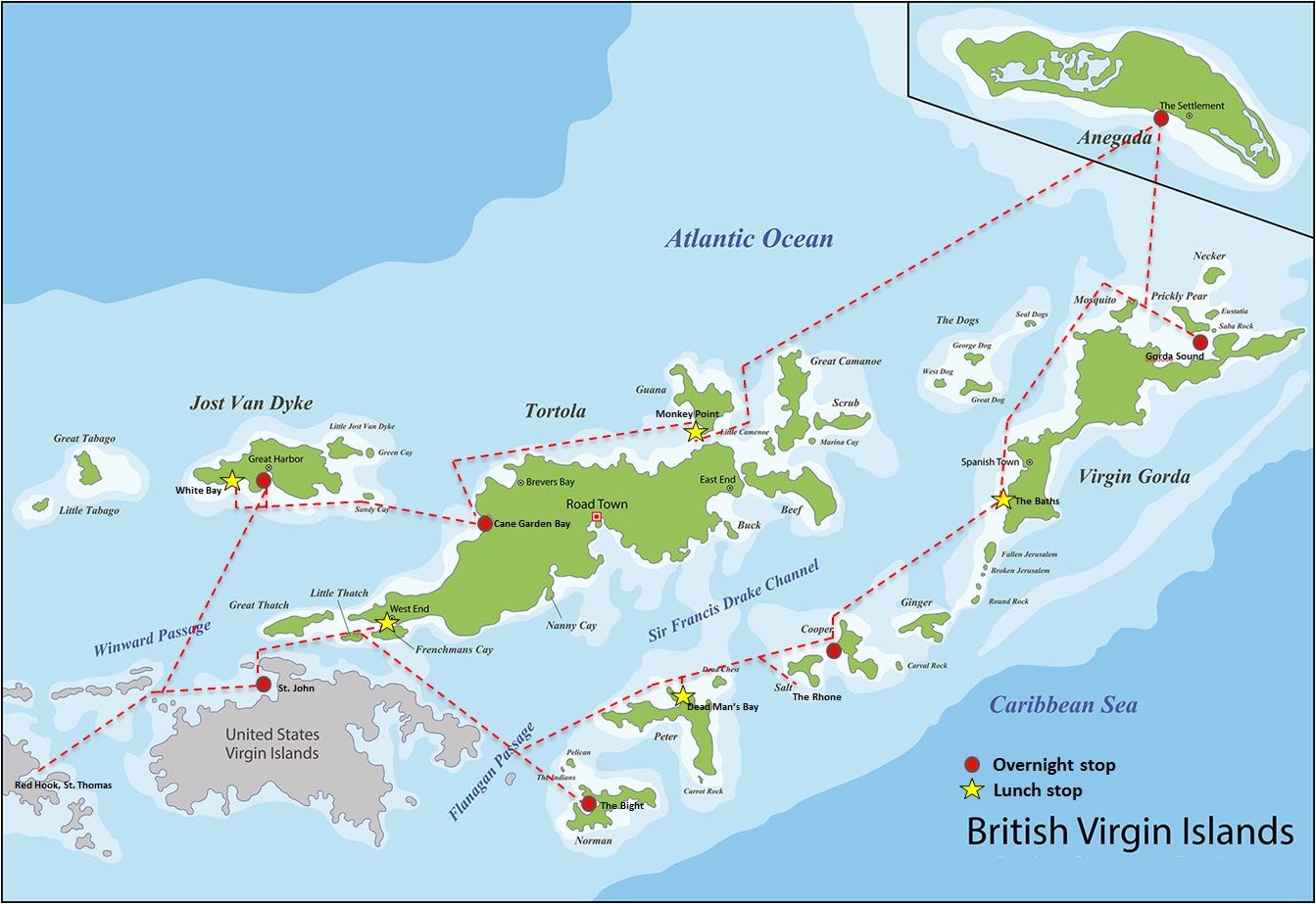 Come and experience the smooth sailing, laid-back atmosphere and attentive service. Your crew are here to make your vacation the best that you have ever had! By far the most popular charter area (and the easiest to sail) is the Virgin Islands. These Islands are more sheltered from the open ocean than other Caribbean areas, they are close to each other and there are numerous quiet and flat calm anchorages. You rarely need to sail more than an hour or two to get from one place to the next, and will quite often stop somewhere for lunch and end up somewhere else for dinner. There are dozens of quiet anchorages to enjoy, many excellent spots for diving and snorkeling, a variety of shore excursions are possible and you can always find something going on in the evening if that's your goal. Most smaller yachts operate out of St Thomas as it's easier to fly into, though you'll sail into and spend most of your time in the British Virgin Islands.
Day 1
The fun begins! Board your yacht in St. Thomas at noon. A brief yacht orientation will be given while you enjoy cool welcome drinks. After lunch, enjoy a leisurely sail (or motor sail) to Trunk Bay on St. John. Have an afternoon swim, then walk the beach and enjoy a Caribbean sunset. Savor a delicious dinner either in the cockpit under the stars or below in the coziness of the main salon.
---
Day 2
After breakfast we depart for Soper's Hole, West End to clear customs, do some shopping in the Caribbean boutiques, and have a nice lunch. Then have an easy reach to The Bight at Norman Island. Stop at "The Caves" for a leisurely snorkel in our warm Caribbean waters. In the Bight you will be treated with a gourmet dinner and after that, chances are you will be ready to visit the William Thornton Floating Bar & Restaurant for a nice party or Pirates Bar & Restaurant for live entertainment.
---
Day 3
In the morning you will head out to the Indians for a fantastic snorkel around the rocks with beautiful corals and tropical fish. The captain will then raise the sail and the yacht will take you towards Cooper Island with a lunch stop in Deadman's Bay, Peter Island. The best bay to see turtles where you will anchor in pristine turquoise water! Salt Island is the next stop where you can snorkel or better yet dive The wreck of The Rhone. A very small ride brings you to Cooper Islands where you will stay for the night. Another opportunity for a beautiful snorkel at The Cisterns, lounge at the Cooper Island Beach Club, or have a rum drink at their rum bar.
---
Day 4
Today we will head to one of the most recognized places in the BVI's: The Baths. This is a unique formation of large boulders, set along the beach of the southern tip of Virgin Gorda. There is a sandy path through the many huge boulders (crawl through them) or you can snorkel around them. In the afternoon we will sail to The North Sound, which is very protected and flat, so the perfect spot for water activities including windsurfing, water-skiing, kayaking, paddle boarding etc. Another possibility is to take a taxi to Gorda Peak for a nice hike climbing to the highest point on Virgin Gorda.
---
Day 5
After morning activities, we are setting sail to Anegada. Try your hand at sailing the yacht as this is a long but pleasant ride. Anegada, is known as 'Drowned Island' and is extremely flat. The highest point is just 28′ above sea level. Surrounded by white-sand beaches, coral reefs, and glistening turquoise seas, Anegada offers great snorkeling. Lunch will be served on board but leave enough room for the lobster dinner ashore that Anegada is famous for. In the afternoon you may wish to explore ashore, see iguanas and flamingos and take a taxi to Loblolly Bay or you may just want to relax and either listen to music or read that book you haven't had time to pick up yet!
---
Day 6
If you have not seen Loblolly Bay yet, you can visit it this morning or you can relax and explore the anchorage of Anegada. Enjoy an early lunch on the boat and then set sail towards Guana Island. During the afternoon you may want to snorkel at Monkey Point (off Guana Island) where large tarpon and turtles gather. We will continue our sail and set anchor at Cane Garden Bay, which is the number 1 beach of Tortola with nice bars on the beach for a fun night out.
---
Day 7
We are sailing north again to Jost Van Dyke and drop anchor at Sandy Cay or Sandy Spit (or both) to explore these beautiful unspoiled "bounty" islands. Then we are off to White Bay, one of the most beautiful white sandy beaches, for a nice lunch and a Painkiller at Soggy Dollar Bar (ask yourself why they have named it like that). We anchor for the night in Great Harbour, where the world-famous Foxy's bar will give you a night to remember. Hopefully Foxy himself is playing!
---
Day 8
After breakfast (with a farewell Bloody Mary or Mimosa, perhaps?), a final swim, and maybe your last group picture, enjoy your last sail to St. John for clearing in and then to St. Thomas, where your charter will unfortunately end. Say goodbye to your crew at noon and leave them as friends with lots of beautiful memories……
---
Let Us Help You Find The Perfect Yacht
Waypoints are the experts in crewed yacht charters throughout the Caribbean. We have visited all the yachts, and know all the crew and every anchorage. We have booked many crewed sailing vacations for families, groups, and couples with great reviews and happy customers, which means you can book your charter with confidence.